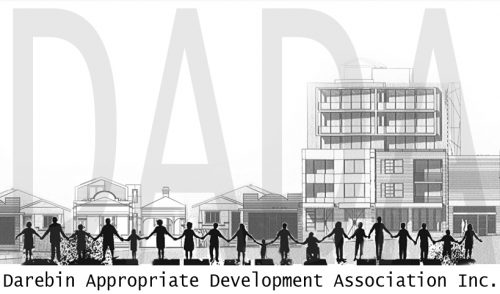 Darebin Appropriate Development Association Charter
(December 2017)
Since 2005 Darebin Appropriate Development Association DADA, is a group of residents of Darebin concerned with inappropriate development. DADA provides assistance to residents who might feel unheard and powerless when inappropriate development is happening near them. DADA acts to preserve the nature and character of our welcoming community and influence council planning to ensure appropriate future development.
We believe: The city is losing its heritage, local identity and amenity and open space. We fear for the local characteristics and for our historic streets and parks and for families to have adequate living space, backyard amenity and space for urban food gardening.
The impact of inappropriate development has already had a negative effect on the livability and diversity for which this city is known and loved. Successive waves of over-development continue to erode remaining amenity. All Strategic planning must be developed in collaboration with the community and these strategic plans must be adhered to in all land-use development decision making. We support a strong and viable open space & public transport network. The Planning and Development Act (1987) states: all developments should demonstrate real net community benefit.
Primarily in the City of Darebin we will advocate through public discussion forums, submissions and direct action;
against inappropriate, poorly designed development;
against proposed inappropriate development applications at Council and VCAT for fairness in the State and local planning systems;
against simplistic planning solutions that disadvantage specific community groups, specifically immigrants;
against the sale of public owned land to developers;
for protection of the human scale of the built environment;
for real heritage protection;
for genuine consultation;
to preserve the character, identity and amenity of the city;
for better community resources;
for increased inclusion of sustainability principles in planning law to manage traffic and negative impacts on residents, pedestrians and road users to preserve and increase public open space i.e. roads, laneways and footpaths;
to protect habitat in public open space, i.e. parks, nature strips, along creeks;
to protect significant trees and vegetation on private land;
to preserve and protect streetscapes (front gardens and nature strip) from the loss of trees and encroaching dwelling setbacks;
to ensure the provision of adequate separate family housing for the future;
to ensure adequate provision of low income rental housing for the future;
against forced rezoning for development that is unable to respond the challenge of climate change and energy scarcity;
for the elimination of barriers to obtaining planning information;
for improved community connectedness;
for complete transparency of the outcomes of the planning process.
Darebin Appropriate Development Association Charter 
We are aware some Darebin councillors believe that DADA has been unduly influenced by other Darebin councillors.  DADA rejects this assertion.
DADA has in the past, and will continue in the future, to meet with and work alongside any and all Darebin councillors who are willing to listen to our concerns and represent them at Darebin council.
DADA works for the Darebin community, not for Darebin councillors.