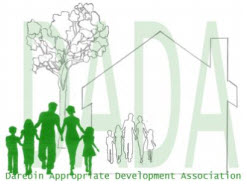 Becoming a DADA member will help us protect our community from inappropriate development.
You will be welcome to attend DADA monthly meetings where folk with experience at objecting to inappropriate planning proposals at Council and VCAT will share their knowledge and experience.
You will be to welcome ask for specific help via the website, email or at meetings.
You will receive direct information, via email, about planning issues, development proposals, meeting notices, actions and other planning related issues.
You will receive direct invitations to forums, workshops and community gatherings on planning issues, policy development and the objecting process.
If you have ideas, concerns, recommendations and initiatives regarding planning and development in Darebin use DADA as a support group.
We understand people are busy and do not necessarily have much time to help support DADA, however, your membership will be a valued contribution that will enable us to do more on your behalf.
Membership is for a calendar year from the 1st of January to the 31st of December.
How To Join
Please complete a membership form (below) and send by email to: darebinada@gmail.com
Send payment (details below).
On receipt of payment, a link will be sent to download a Members Guide*.
Guide
Having Your Say: $15

A Guide to Successful Planning and Development Objecting
Membership Cost
Membership (Annual): $15.00
Membership + Guide: $20.00
Concession Membership (Annual): $10.00
Donations gratefully received
Join Now
Bank Details
Account name:  Darebin Appropriate Development Association
Bank: Bendigo
BSB: 633000
Account No.:  157516378
Cheque
Send a cheque made out to Darebin Appropriate Development Association by Australia Post to 1/17 Murphy Grove, Preston, 3072.
Remember to enclose your completed membership form. We will email you a receipt and the guide.