Borneo Sporenburg in Amsterdam where high density doesn't mean high rise.
The buildings are unique and built by different owners/developers,
St Killda Junction, where high rise is not just grey and white. The cantilevered floors break up sheer visual mass.  Softer coloured cladding toward the top of the building helps it fade into the background.  The height of the building is not overshadowing much other than the open road junction.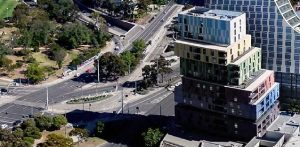 Featured on Grand Designs and House of the Year, this house is architect designed, low cost/affordable, (made from shipping containers) and sustainable.