We like a bit of a challenge at DADA, to say the least.  So when challenged this week to check where demand for housing meets availability I did some research.
DADA has been making the claim for many years that there is an oversupply of one and two bedroom apartments in Darebin and an under supply of separate family homes.  My research, show below does not debunk this claim.  Estate agents anecdotal evidence mostly supported it.
The following table includes statistics from the Realestate.com website for dwellings open for inspection on Saturday the 28th of January 2017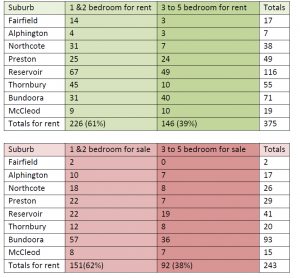 While there are many more one and two bedroom apartments available the statistics track quite closely the projected need according to the Darebin Housing Policy.
This is good for now, but DADA would still worry about an over supply of one and two bedrooms given all the developments waiting to be approved and built.  Preston Market being the biggest of these with around 90% of one and two bedroom dwellings.
To check where the greater demand is the following Real Estate Agents gave this anecdotal advice (agents could not provide specific figures):
Nelson Alexander, Preston: 'More apartments available than people wanting to buy and more people wanting than family homes available'
Barry Plant: 'Maybe a need for more apartments for students' (currently the busiest time for this demand)
Stockdale and Leggo, Reservoir: 'highest demand is for houses because the land size is sort out by developers.  More supply of units and townhouses.  In 2016 the numbers of houses sold were at the lowest levels in 20 years.'
McGrath, Preston, 'probably even.'
My challenge is for Darebin Council to do the work to investigate the number of empty dwellings in Darebin.  If we could get that information we could then develop some legislation to encourage filling empty dwellings available to ease demand.
Cheers, Maria
DADA