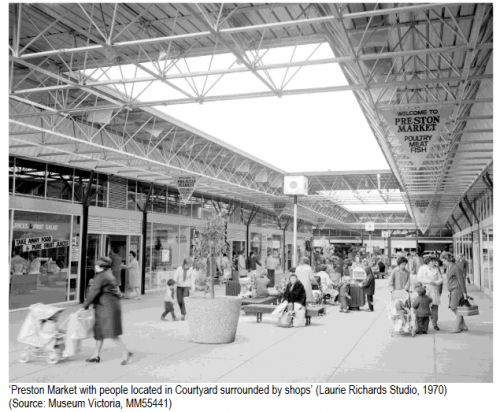 Last night Darebin Council considered and voted on a raft of measures in regard to the findings of the RBA heritage review.
DADA was represented in two submissions asking for the strongest possible protection for the market against the plans to demolish and rebuild on the edge of the site.
Our submissions are follow.
Maria Poletti said:
Submission to Darebin General Council Meeting 18th of May
Chris Erlandsen said: SAVE OUR PRESTON MARKET
At its inaugural community meeting in 2015, the developer posed the question "What is it that you want to save"? For us it was a question that says more about a certain mentality; a certain mentality that our members disagreed with and opposed.
SOPM through its ever growing numbers continues to push for maximum protection of the now four main elements of the market – social and cultural, technical and aesthetic aspects, having been identified through the Heritage Victoria's hearing and now recognised in the latest RBA Heritage Report.
To us however there seems to be a pervasive desire for Council to not be fully and genuinely be representing the community interest.
An example of this is how our SOPM message got perverted from "saving the market" to saving a market" which then presented Council and the VPA to introduce the notion of relocating the market. Had the findings from both Heritage Vic and the RBA report been available before the Community Reference Group were conducted, heritage would arguably have been ranked more highly than moving the market.
In their summary, Heritage Victoria described Councils approach to the issue of heritage at PM as being "disjointed".
Of real concern to us is this disjointed approach and a lack of logical sequencing whether intentional or not, that is still creating unfair bias. We continue to see decisions made that are not based the full facts, yet allow misinformation to creep into discussion and ultimately into written reports,
We feel we are being cajoled by current Council reports into thinking that demolition or relocation of the Market to facing Cramer St is the only viable options. Yet the RBA report st p30-32 they discuss at length to explain:
"What" is significant
" How" it's significant
" Why" it's significant
At p 33 they state: "On the basis of PM's significance as outline above, it would be crucial to largely retain the significant elements and key aspects of the design and planning".
Finally it is our view that it is simply a urban design wish not fact for Council to continually be talking up the need for the PM to have a street address, since we all know that has not been a consideration from its beginning or while the food hall was situated there and the Market has continued to survive and thrive.
We profoundly hope that the VPA's urban design plan fully respects and protects the Preston Market in situ.