In the last term of Council …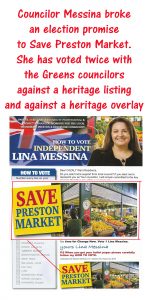 In this term as Mayor, Councilor Messina entreated the community to sign her petition to save the market. It has gone, where?  In a motion passed at council she was to meet with the Minister for Planning.  Has she done that??
When DADA asks questions about Preston Market, at council meetings, the response has been to buckpass the responsibility to the Minister for Planning. (read questions and answers in other posts)
Has the Mayor given up on saving Preston Market, again???
She has not signed the community lead petition for public acquisition of Preston Market.
Is she planning to run for a second term as mayor with the Greens Councillors support?? We hope not.